The
Solve-A-Mystery event
includes a charity auction to raise money for
Children's Miracle Network
hospitals through
Extra Life
. The initial list of items to be auctioned is now available. This list will probably grow before event day.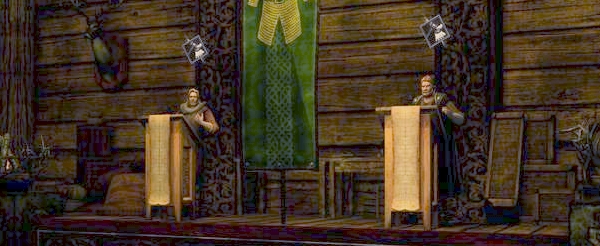 Reputation Items set — Enough reputation items to become Kindred with the Men of Bree, Mathom Society, Thorin's Hall, Elves of Rivendell, Rangers of Esteldin, Wardens of Annuminas, Council of the North, Lossoth of Forochel, Iron Garrison Miners, and Iron Garrison Guards. Reaching Kindred status grants travel and purchase discounts, unlocks vendor items, grants titles, and gives access to purchasing faction steeds. The winner must have significant mailbox space available to receive them.
Animal Tome set — A Lore-master's dream, unlocking Cat, Dog, Frog, Fox, Snake, and Squirrel. (These are not cosmetic pets!)
10-Pack Dyes set — 10 of every color of dye. Seven sets will be offered.
Rare Tapestry set — One of each of the seven tapestries available from the Roving Threat vendors.
Music Manuals set — One of each manual required to learn to play an instrument. We will also throw in several Mentoring manuals. Two sets will be offered.
Swan Knight set — One black and one white swan cosmetic pet. Owning both unlocks the "Honourary Swan-knight" title through the collection system. Two sets will be offered.
Grim Pets set — A Grim, Fire Grim, and Shadow Grim cosmetic pet. Owning all three unlocks the "Keeper of Grim Company" title through the collection system.
Farm Friends set — Several pets, including Brown Sheep and Tan Sheep. (This list will be updated with more pets soon!)
Wild Pets set — Several pets, including Auroch's Calf and Spotted Shrew. (This list will be updated with more pets soon!)
Treasures set — This includes six sets of 25 fused relics, emerald shard, Anfalas Scroll of Empowerment, steel key, and… MORE!
Here are tips to help you succeed at the auction:
You can bid on an auction by listening to /SHOUT while at Windy Acres Ranch. Please make sure you can hear shouts in your chat window.
To place a bid, you simply /shout or /say (be careful of the say bug!) how much you are willing to donate to charity. The highest bid wins.
The auction will move very fast, so you will need to pay close attention. You may wish to increase the size of your chat window. Kiralynn will do her best to keep track of bids as they come in. If you think your bid was overlooked, please repeat it a second time.
If you are the winning bidder, you must donate the promised sum of money to Extra Life, supporting Children's Miracle Network hospitals using this link: http://www.extra-life.org/participant/windyacres
If your donation is paying for an auction set, you must include the name of the auction set (as listed above) in the donation comments.
Please address any questions to Kiralynn through in-game mail on Landroval.