CLUB NEWS
A few members have asked about the Ales and Tales that took place at the Windy Acres Ranch. Here is a link to the podcast!
From now until December 15th, use code SDCPT6 in the LotRO store for a FREE "Tome of Defence".
New with Update 5 – Open Steel-bound Lootboxes found throughout Middle-earth. Win random items, loot, and earn a chance at uncovering exclusive rewards, like the Marrow Painted Steed!
Due to unsportsmanlike behavior and harassment of players, members of the "Worthy of Song" kinship will not be allowed to participate in future riding club events.
Need to collect reputation items to buy a new mount? Contact Kiralynn if you need Mathom or Wardens reputation.
Interested in a weekly practice race? Let's get together every Thursday at 4pm EST.
UPCOMING EVENTS
The riding club's Winter Derby will be held on Monday, January 23rd at 3pm EST. Participants should meet at Thorin's Hall Inn for a pre-race party and sign-ups starting at 2pm EST. This is a race for daytime and overseas players. The prize is a code for 1600 Turbine Points! Riders must register ahead of time by in-game mailing their name, horse's breed and name to Kiralynn. They can also register by sending a /tell before 2:45pm EST.
If you are willing to volunteer as a race judge, please contact Kiralynn as soon as possible. We will need 5 judges to properly cover the course.
EQUESTRIAN NEWS
This month's equestrian feature is the Prized Esteldin Steed. It can be purchased from Malenfang at Esteldin in the North Downs after reaching Kindred reputation with the Rangers of Esteldin. Contact Kiralynn if you would like reputation items for this faction.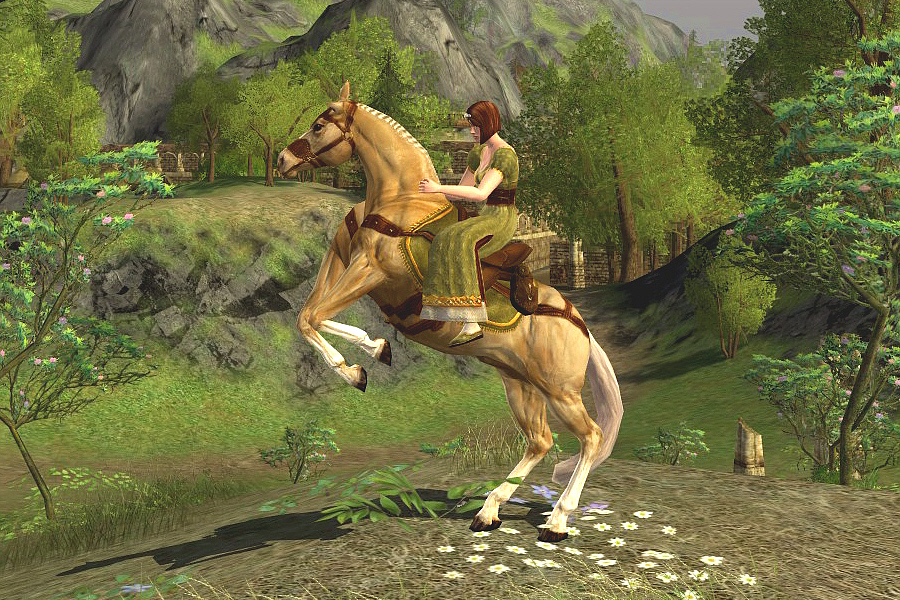 RACING TIPS
* At a horse race, a tune known as the "First Call" or "Call to the Post" is a signal that all mounts should be positioned at the starting line because the race is about to begin. Click here to hear the call.
* At the starting line, face your mount towards the first checkpoint.
* Spurring your horse with a key-press (W or NumLock) is a safer way to begin the race than a mouse-click of both buttons.
* When participating in festival races, if you fall off of the boards into the sticky mire, do not go back and try again. Continue forward at the slower pace. If you have done well on the rest of the course, you can still win even if you bog down at both crossings.
Have a tip to share? Reply to this post!