CLUB NEWS
The +5000 Enhanced Reputation supply is 20% off in the store for a limited time. You can buy it for 180 points.
Use code KB5F82 to buy "Morale Potions x5" free in the Turbine store through January 12th!
The SnowWizard and WarmHands emotes are back in the store. Buy them before they disappear for another year.
Need to collect reputation items to buy a new mount? Contact Kiralynn if you need Bree, Mathom or Wardens reputation.
UPCOMING EVENTS
The Windy Acres Talent Show will take place on Friday, January 13th at 4pm EST. Participants should sign up between 3:00pm and 3:50pm EST by contacting Kiralynn. The show will be held at 1 Twinfall Path, Imrath Ivrin, Falathlorn homesteads. All participants and audience members can cast one vote for the winner. The prize is a code for 750 Turbine Points!
The riding club's Winter Derby will be held on Monday, January 23rd at 3pm EST. Participants should meet at Thorin's Hall Inn for a pre-race party and sign-ups starting at 2pm EST. This is a race for daytime and overseas players. The prize is a code for 1600 Turbine Points! Riders must register ahead of time by in-game mailing their name, horse's breed and name to Kiralynn. They can also register by sending a /tell before 2:45pm EST. The top three winners will qualify to compete in the Spring Racing Carnival. This is a special race season kick-off event, so the normal 1 gold entry fee has been waived.
If you are willing to volunteer as a race judge, please contact Kiralynn as soon as possible. We will need 5 judges to properly cover the course.
EQUESTRIAN NEWS
This month's equestrian feature is the Prized Eglan-Horse. It can be purchased from Léoflac at Ost Guruth in the Lone-lands after reaching Kindred reputation with the Eglain. Contact Kiralynn if you would like reputation items for this faction.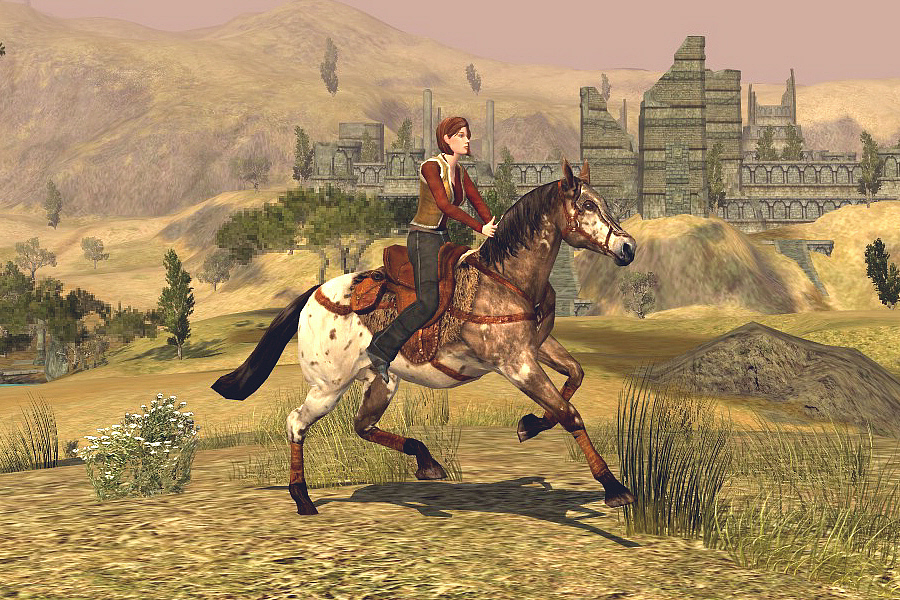 You have until January 30th to buy the Glittering Yule Steed (2010) or the Frosty Steed (2011) festival horses from Will Peartree at Hengstacer Farms in Bree-land. You will need a yule horse race token, 20 yule tokens, and a document of mount ownership. The race token can be acquired at the race tracks of Delving Fields or the Bree festival grounds. The yule tokens can be gathered at Frostbluff or any capital city. The document of mount ownership can be purchased from Will for 200 silver (or more if this is not your first horse). All yule horses are standard speed mounts.
RACING TIPS
* If the race course includes steep jumps, practice them ahead of time. Find out how far you can jump before spraining a leg and taking a speed penalty. Look for small ledges that you can tap on your way down an incline to reset your falling distance. Turning toward a cliff as you fall will often reduce the chances of a sprained leg.
* An ugly race is a fast race. Turn down your graphics settings, stop any other network traffic (close Hulu, Facebook, MyLotro, etc) and do everything else you can to reduce lag. You can take pretty screenshots of yourself and your horse after you win. Turning off floating names can give you a clearer view of the track.
* Know your depth. Discover how much water your horse can run through before dismounting you. If you're thrown from your horse, you have lost the race. Hobbits and Dwarves need to be especially careful around water.
Have a tip to share? Reply to this post!