CLUB NEWS
Use code MSB987 to buy "+20% Mount Speed (1 Hour)" free in the Turbine store through February 16th! Only one is available per account.
February is mount month! LOTRO exclusive steeds are available in the store all month long. Look for the Green Painted Skeleton Steed and Yule Festival Snow Steed. The three mount emotes – Bow, Rear Kick and Rear Up – are on sale for 20% off and cost only 156 Turbine Points each.
What is a horse race and how does it work?
Horse races are exciting events where players choose their favorite standard speed (162%) mount and compete with other riders on a challenging course. A race course has a start line, one or more checkpoints, and a finish line. Riders line up at the start, wait for the /charge signal, pass each checkpoint in the proper direction, and try to be the first to cross the finish line.
Each checkpoint is a landmark or obstacle. Passing a checkpoint typically means going around it clockwise (with the landmark on your right) or counter-clockwise (on your left). Screenshots of checkpoints and a map of the race course are usually included with the event announcement, allowing participants to review the course before race day. Before the race begins, the race coordinator takes all riders on a pace lap. This gives the competitors a tour of the course and allows them to ask questions about rules or checkpoints.
Although all of the horses gallop at the same speed, two factors help separate them out. First, riders must find the best path between checkpoints. Finding a shorter path means crossing the finish line sooner. Second, riders often face numerous obstacles along the race route. These include stone walls, fences, cliffs, water crossings, stairs and hostile creatures. Missing a jump or spraining a leg during a fall can cost a rider the race.
Race judges monitor the riders, checkpoints and finish line to catch any cheaters.
After the race, all participants line up for screenshots. The winners also pose for their own photos. Race results are announced in the forums.
UPCOMING EVENTS
The Bywater Steeplechase and Horse Show will be held on Friday, February 24th at 9pm EST. The steeplechase is a challenging horse race with a grand prize of 750 Turbine Points! The second place rider will win 3 gold and the third place rider will earn 1 gold. The horse show is an exhibition of horses and matching riding outfits. The show winner will receive a 5 gold prize.
Steeplechase riders will face many perils, including bats, bears, boars, spiders and goblins. There are fences to jump, cliffs to avoid, and broken bridges to cross. (Most of these are levels 9 to 11. Inexperienced riders must be wary!) The race course takes approximately five and a half minutes to run.
The pre-race party begins at 8:00pm EST at the Methel-stage between Bywater and Tuckborough. The horse show begins at 9:00pm. The steeplechase will begin when the show concludes, around 9:30pm EST. Participants must register by 8:45pm for the race, show, or both events. Riders may also register for the race and/or show before the party by sending an in-game mail to Kiralynn. The mail must include their name, horse's breed and name, and which events they wish to sign up for.
The post-race party will take place at the Green Dragon Inn in Bywater.
If you are willing to volunteer as a race judge, please contact Kiralynn as soon as possible. We will need 5 judges to properly cover the course.
The LOTRO Fashion Contest 2012 has begun! Club members will enjoy the "Fashion in Motion" category. If a screenshot you submit wins, you'll receive 500 Turbine Points and a unique title for the forums!
The Fashion Week contest runs from Thursday, February 9th, 2012 until Thursday, February 16th. Entries must be received by Turbine no later than February 16th, and you may only submit two screenshots per category. Polls for the Fan Favorite award will open Friday, February 17th and run until Tuesday, February 21st. Turbine will announce the winners of each category on the LOTRO Forums and website on Friday, February 24th. Winning submissions will receive 500 Turbine Points. Screenshots must be original and unedited (cropping is allowed) and should have a resolution of at least 1024×768.
Fashion In Motion: Entries in this category should be taken while on horseback! Color coordinate with your horse and ride through Middle-earth in style! The winner of this category will receive the title of, "Galloping Beauty 2012" (female) or "Dashing Stallion 2012" (male) on the LOTRO Forums.
Flash lotteries continue to be posted on the My.LotRO.com for the Rune-keeper steed. Follow LOTRO on Facebook or Twitter to be notified when a lotto is posted.
EQUESTRIAN NEWS
This month's equestrian feature is the Yule Festival Snow Steed. It can be bartered from Will Peartree at Hengstacer Farm during the Yule Festival for 2 mount tokens and a document of mount ownership. It can also be purchased in the store for 1995 Turbine Points during the month of February 2012.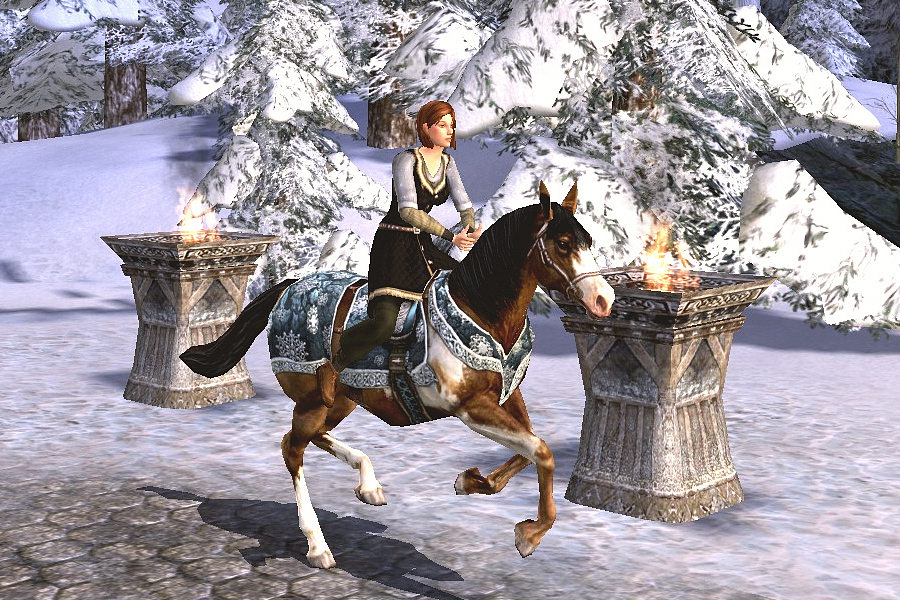 Members of the Lonely Mountain Band on Landroval can contact Kiralynn if you need reputation items for Bree, Mathom, Wardens or Rivendell in order to purchase a horse. You can also request monetary assistance in purchasing your first horse.
RACING TIPS
There are three types of judges – finish line, checkpoint and pace riders.
All judges should adjust their settings so that they can see the floating names of riders. Titles, kinship names and other floating text should be turned off. These cause clutter in screenshots and make judging the race more difficult.
If you are a finish line judge, you will watch the riders on the map to make sure that none of them use wayfaring skills during the race. (The green dots on the map should move smoothly along the course route.) As the riders near the finish line, close your map view. Be positioned to watch the riders complete the race. Stand so that the two items marking each side of the finish line are lined up on your screen. These are typically fence or lamp posts. Pull back your camera view so that you can see a wide area. As the rider's cross the finish line, take a screenshot. If your computer is fast enough, take several in quick succession. These screenshots are vital to properly determining the outcome of the race.
Checkpoint judges have two tasks. First, you will need to take a screenshot of the lead riders passing your checkpoint. This is how we catch cheaters who try to bypass a checkpoint. Second, you must determine if they passed the checkpoint according to the course rules. Make sure that you understand how the checkpoint must be navigated by the riders. Do they pass it clockwise or counter-clockwise? Are they allowed to jump over obstacles? If you have any questions, ask the race coordinator before the event begins. During cross-country races, a checkpoint judge may be asked to move to a second location after all riders have cleared their original location. Make sure that you have the ability to reach the second location in time – this may require that your milestone skills are not in cool-down or that you have visited a particular stable.
Pace riders are judges that ride along with the participants. A pace rider should never be in front or lead the way, since each rider faces the challenge of finding the best path between checkpoints. Whenever possible, pace riders should use fast horses or swift goats (168% speed mounts). This will help them stay near the front of the race. Pace riders should take screenshots of the lead riders when approaching checkpoints, and make sure that no riders violate the rules by switching
All judges should monitor the raid group to make sure that no riders activate speed-enhancing buffs. As a general rule, riders are asked to cancel all buffs to make this easier. Review your screenshots as soon as possible. Report any problems you see once the race is finished. Be prepared to share your screenshots (via post or email) immediately after the race.
Have a tip to share? Reply to this post!
---
FEBRUARY IS MOUNT MONTH!
The list of available horses during Mount Month has changed!
Now Available
Green Painted Skeleton Steed
Yule Festival Snow Steed
Stabled
Steed Of The Rune-keeper
Steed Of Night
Steed Of Minas Ithil
Steed Of Bright Days
Fleet-footed Goat
Steed Of The Guardian
Steed Of The Hunter
Harvestmath Steed
---
Green Painted Skeleton Steed
A glow-in-the-dark painted steed, coloured jet black and patterned with luminous green skeleton bones!
This steed has 250 health and allows you to travel 68% faster than running on foot.