CLUB NEWS
A treasure hunting event took place in the Low Lands and lasted for two days. Clever treasure seekers went home with three new mounts – Treasure Laden Goat, Treasure Laden Horse, and Cave-claw Masked Horse. All three new mounts have the improved 168% speed.
Meet Frisky! Windy Acres is now home to a domesticated cave claw. Feel free to bring mushrooms, turnips, and small mice as treats for Frisky if you visit. Avoid giving him any cheese unless you want to faint in a cloud of noxious gas. Please don't let Frisky into the house as his spines tend to damage the rugs, thank you! The ranch is located at 9 Chestnut Street, Raglan, Bree-land homesteads.
Today is the last day to enter the 2012 Fashion Contest. Enter the "Fashion In Motion" category to win 500 Turbine Points!
Use code IFHT33 to buy "Legendary Point Reset" free in the Turbine store through February 23rd! Only one is available per account. Shared storage, vault storage, inventory bags and the currency cap are also on sale for 20% off.
The featured mount screenshots and other images are being upgraded. Browse back issues for much improved portraits of the horses of Middle Earth.
Flash lotteries continue to be posted on the My.LotRO.com for retired steeds. Follow LOTRO on Facebook or Twitter to be notified when a lotto is posted.
UPCOMING EVENTS
The Bywater Steeplechase and Horse Show will be held on Friday, February 24th at 9pm EST. The steeplechase is a challenging horse race with a grand prize of 750 Turbine Points! The second place rider will win 3 gold and the third place rider will earn 1 gold. The horse show is an exhibition of horses and matching riding outfits. The show winner will receive a 5 gold prize, second place wins 2 gold, and third place wins 1 gold.
Steeplechase riders will face many perils, including bats, bears, boars, spiders and goblins. There are fences to jump, cliffs to avoid, and broken bridges to cross. (Most of these are levels 9 to 11. Inexperienced riders must be wary!) The race course takes approximately five and a half minutes to run.
The pre-race party begins at 8:00pm EST at the Methel-stage between Bywater and Tuckborough. The horse show begins at 9:00pm. The steeplechase will begin when the show concludes, around 9:30pm EST. Participants must register by 8:45pm for the race, show, or both events. Riders may also register for the race and/or show before the party by sending an in-game mail to Kiralynn. The mail must include their name, horse's breed and name, and which events they wish to sign up for.
The post-race party will take place at the Green Dragon Inn in Bywater. Bands are individual musicians are welcome to play for the crowd at this event.
If you are willing to volunteer as a race judge, please contact Kiralynn as soon as possible. We will need 5 judges to properly cover the course.
If you find the opportunity, please advertise this event in your local Regional channel on an hourly basis between 6:00pm and 10:00pm EST. Here is a blurb you can cut and paste:
Come to the Bywater Steeplechase horse race and show on Friday February 24th at 9pm EST! Meet at the Methel-stage. Race a horse, show an outfit, or both. Win a code for 750 turbine points or gold! The pre-race party and sign-ups begin at 8pm EST.
EQUESTRIAN NEWS
This month's equestrian feature is the Treasure Laden Horse. It can be found in Huge treasure chests in the Treasure Fields of Ered Luin. The Fields are northwest of Gondamon. They can be reached by following the road up into the hills, using the mustering horn or campsite at the Fields, or visiting a Festival Announcer stable master. The stable masters are located in Celdonim, Michel Delving, Thorin's Hall and West Bree. The treasure hunting event lasts for two days and takes place several times each year. In order to find a Huge treasure chest, treasure hunters will need to find a cache with a "very strong" reading from a dowsing crystal or trained cave claw. They will also need a pick which can be obtained from Aldúlf, Arngills, or their pet cave claw at the Fields.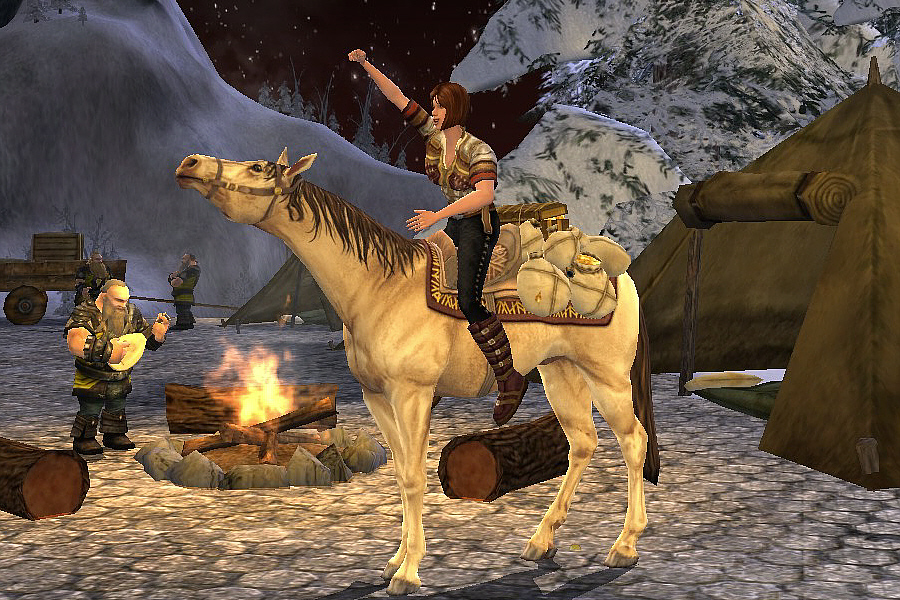 Won a Treasure Laden mount? Here are name suggestions from club members – Avarice Bandit Copper Diamond Digger Ferrous Fortune Gambler Garnet Gem Gravy Hoodwink Jackpot Jasper Lucky Motherlode Nugget Paydirt Plunder Prosperity Pumpkin Pyrite Ruby Serendipity Slag Sluice Swindler Venture Windfall
Members of the Lonely Mountain Band on Landroval can contact Kiralynn if you need reputation items for Bree, Mathom, Wardens or Rivendell in order to purchase a horse. You can also request monetary assistance in purchasing your first horse.
RACING TIPS
When an inexperienced rider deviates from a straight line course between two checkpoints, it is called "bearing in" or "bearing out".
"Blinkers" are a common piece of equestrian equipment that blocks the side and rear vision of the horse.
A "farrier" is a blacksmith specializing in shoeing horses. In the early days, he was also a horse healer.
A "flat race" is a course without obstacles such as hedges or fences.
The "post" is the starting point for a race.
"Tack" refers to the saddle and other equipment worn by a horse during racing.