CLUB NEWS
Since the Galloping Gala, there have been many more equestrian events on LOTRO servers. Kryhavoc of Vilya hosted an event on May 27th, called "Taking the Hobbits to Isengard". Riders started at Frerin's Court at Thorin's Gate and travelled all the way to the doors of Orthanc. Cheeze of Silverlode sponsored the "Second Annual Omishan Challenge" on June 2nd, supported by the Clan of Dereth. This horse race had a top prize of 150 gold and an impressive collection of sigils and relics. Katchitini and the Osgiliath Guard of Elendilmir hosted the "Pony Express Relay Race", which started at Suri-Kyla and ran all the way to the Prancing Pony in Bree. Riders had to deliver packages to Pynti-Peldot, Kauppa-Kohta and Esteldin. Dallofin and Second Breakfast of Crickhollow sponsored the "Ered Luin Rally" on July 15th. The rally started at Gondamon's front gate. Each rider had to solve a series of clues to discover the next way station on the race course.
---
Windy Acres Ranch is now sponsoring a Formation Riding Team to practice the art of quadrille dressage. After discussion, the team elected to practice on chestnut mounts and name each unit after a heraldry color. They also voted on the Arth-crus with a white undershirt and black pants as the official team uniform. A variant song called "Chetwood Hills" will be used as the music for the team's first routine. Practice sessions are scheduled every Wednesday at 9:30pm server time (EST). Optional sessions are scheduled for Noon on Saturdays. Anyone who wishes to join the team is encouraged to read the document "How to Ride in Formation" and contact Kiralynn on Landroval. You can also click here for the team roster.
---
Poll results are in! 67% of visitors plan to buy the "Riders of Rohan" expansion after the price drops, 17% have already pre-ordered the Legendary Edition, and 17% plan to pre-order another edition in the future. Fancy blankets, breastplates, and rein covers are popular in horse tack, but saddlebags won the vote with a total of 47%. The Palomino was voted the favorite horse coat at 41%, followed by Roan at 23% and White at 18%. The favorite class mount by far is the Steed of the Hunter, scoring 75% of the votes. 75% of visitors own a fast (+68%) mount, while 20% bought one. The cross-country style of horse race took 50% of the vote, followed by the steeplechase at 38%. Unsurprisingly, 58% of visitors prefer to win Turbine Points at events, with 33% preferring gold and only 18% interested in wardrobe items.
---
Two videos have been released by Turbine, highlighting the upcoming "Riders of Rohan" expansion. The "Bringing Rohan to Life" series is available on LOTRO's YouTube channel. Click here for Episode One and here for Episode Two.
As of Update 7.2 released on July 9th, players should no longer see travel routes breaking. Horses will not stop indefinitely while galloping along a travel route.
---
Windy Acres bid a fond farewell to Alliman Ferrywood. He decided to retire from life in Middle Earth. Please join me in wishing him the best of luck in his future endeavors. Alliman, hailing from Budgeford in the Shire, was a frequent participant in riding club events. He won the Winter Derby at Thorin's Hall in January, riding his faithful steed Hearty, a red-clad horse of the Gap. He went on to take second place at the Bywater Steeplechase in the spring. The final race of his career was an astounding victory at the Bree Cup Championship Race, the crowning event of the Spring Racing Carnival. He finished the season as a third-ranked rider with sixteen racing points, along with the respect and envy of his fellow riders.
---
The Fellowship Run took place on Wednesday, July 11th. A large crowd gathered for the fashion show and relay horse race at Hengstacer Farms in Bree-land. The weather was beautiful for the show. Ten riders participated in the look-alike contest – Aegthil, Aventine, Beorbrand, Bibiann, Candyboo, Fionnuala, Johannsen, Jonwise, Marlyela and Neiahel.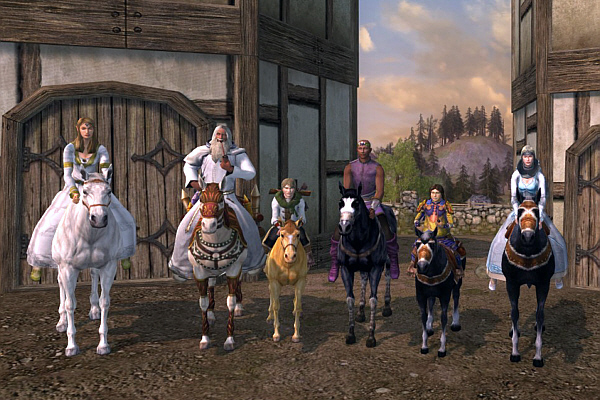 Contestants masqueraded as Gandalf, Galadriel, Sam, Boromir, and other major characters from "The Lord of the Rings". Galadriel costumes were especially popular.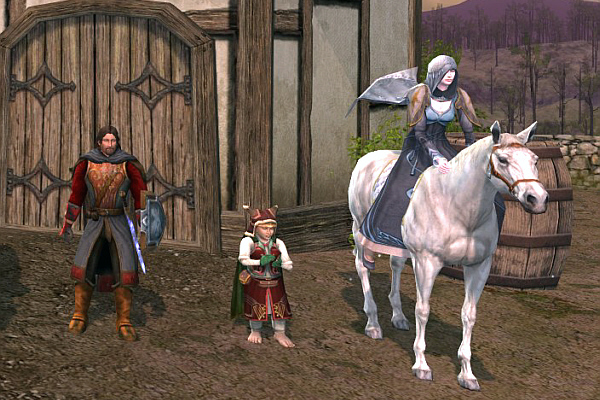 Neiahel won two gold with her beautiful white Galadriel outfit. Jonwise looked amazingly like Samwise Gamgee, earning him a 5th Anniversary Cloak. Beorbrand was a stunning Gandalf, complete with staff and mystical might. He won 10 gold and 500 Turbine Points.
After a few difficulties with organization, four relay teams entered the race. Beorbrand, Lifebringer and Neiahel joined up for Team A. Zhivaer, Baregan and Galdoreth rode together on Team B. Superdangerman, Feborn and Mooneraen gathered together for Team C. WhopperJr, Midevilteddybear and Noridar entered as Team D.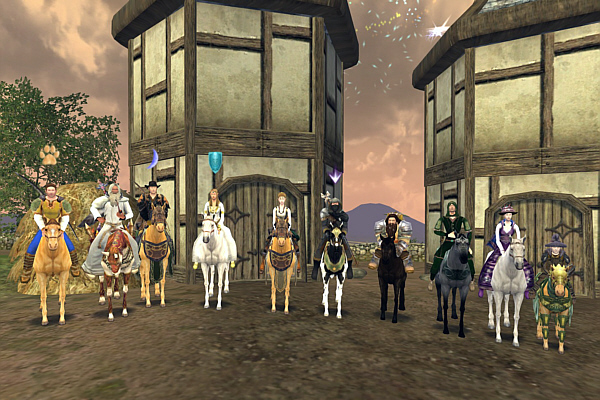 Beorbrand, Zhivaer, Superdangerman and Whopperjr lined up at the start and were given batons. Once all of the riders and judges were in place, the race began. Riding through the fields and light woods, Beorbrand and Zhivaer fought their way to an early lead. The horses galloped into the camp of Walt Whitrose and Sage Hayseed, and batons were transferred to the next riders. Lifebringer, Baregan, Feborn and Midevilteddybear thundered into the second leg of the race. Feborn made up lost time for his team, skillfully navigating through the Far Chetwood hills. Midevilteddybear took a chance on a shortcut through the villages that did not pay off. At the second checkpoint, the lead horses were neck and neck. Neiahel and Galdoreth quickly jumped the fence, dodged the obstacles in the graveyard, and spurred their horses towards the farm. Mooneraen took the baton and urged her horse to greater speed, hoping to gain on the leaders. Noridar was left sitting on a wagon, waiting for a team mate that would never come. Meanwhile, at Hengstacer Farms, Neiahel crossed the finish line in first place on grey horse Edlothiad with several lengths to spare. Galdoreth finished in second place with a respectable time. Mooneraen showed great determination and rode through the final gate to finish the race.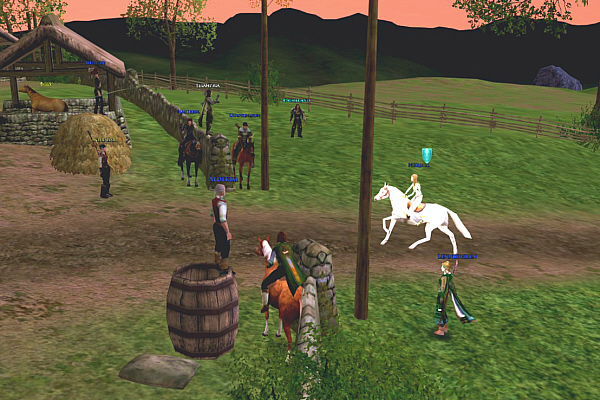 Members of Team D were awarded one gold for their participation. Team C won two gold each. All three members of Team B rode home on fine new Perlino horses. Beorbrand and Lifebringer both won 500 Turbine Points and 10 gold, while Neiahel won 500 Turbine Points and a Perlino. Noridar was also given a Perlino for being a good sport. He waited almost two hours and didn't get a chance to race, but never complained.
Many thanks to our volunteers, both checkpoint judges and musicians – Aldekim, Anuranja, Apis, Byrcha, Caiyyd, Godwineson, Lennidhren, Lhinnthel, Mellilot and Naethril. Events such as this would not be possible without you. Special thanks to Harperella of the Lonely Mountain Band and Celestrata of Turbine who provided the prizes.
---
UPCOMING EVENTS
Join the Sons of Numenor for their monthly open patrol, the "Ride of the Free Peoples", on July 15th at 10:00pm EST (server time) on Landroval. The Free Peoples will ride together again and the thunder of their mounts will strike fear into the Enemy! Meet at the Golden Perch for a formation ride to the Forsaken Inn. Participants will join a "Thunder Ride" from there to Rivendell, followed by a party at the Last Homely House with music, revelry and roleplay. Escorts are available for low level characters. Speak to Benjimir (Comstrike) or click here for more information (http://windyacres.mymiddleearth.com/?p=2111).

Join us for the "High King's Challenge" on Saturday, August 4th at 1:00pm server time (EST) in Tinnudir, Evendim. There will be a horse show followed by a long-distance endurance course through "Evening Twilight". Show participants will be judged on the originality and color coordination of their outfit, how well it matches their mount, and how dramatically it is presented. The audience will vote for the winners. Prizes and race route will be announced soon.
---
EQUESTRIAN NEWS
This month's equestrian feature is the Sable Harvestmath horse. It was available during the Harvest Festival of 2010.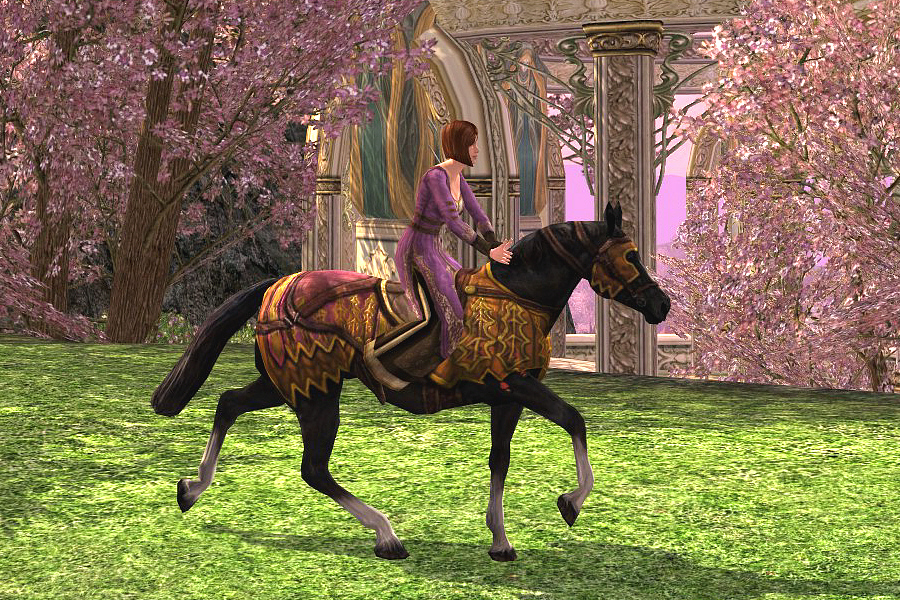 Contact Kiralynn if you need reputation items for Bree, Mathom, Wardens, or Rivendell in order to purchase a horse. You can also request monetary assistance in purchasing your first steed. Have spare reputation items? Consider donating them to the ranch to help young riders buy new mounts.
---
RACING TIPS
* Read the rules and review the maps for horse races at the Windy Acres Ranch web site ahead of time.
* Make sure that you are in "run mode" and ready to gallop when you are called to the start line.
* Want to avoid embarrassing saddle bounce? Press the Insert key twice while galloping to make sure that you are in sync with your horse before the race begins.
* Do not wear hats, cloaks, packs or weapons while racing. These items make it more difficult for the finish line judge to evaluate your position.
* If you win a code for a mount or cosmetic item, you must log in at MyAccount.Turbine.com and enter it as a Product Key to activate it. Logging in to My.Lotro.com will not work for these codes.
* If you win a Turbine Point code, click the Store button, click "Add Points", enter the code where it says "Redeem Points Card" and click "Redeem Now". The points will be available to all characters on your account.
* If you win a code at a race, enter it right away, before you leave. The longer you wait to report a problem, the less likely it will be that your event host can solve it.
Have a tip to share? Reply to this post!