CLUB NEWS
The Windy Acres Haunted Horse Race and Mounted Costume Contest was a success! The evening started off inside the creepy kinhouse, where musicians performed traditional music while guests arrived. After much drinking of ale and smoking of pipe weed, party-goers moved outside to begin the costume contest.
Ten participants showed off their best outfits and steeds. Golvaethor won third place with his pumpkin head costume, well-matched in green and orange. Byrdie won second place with a very popular ale delivery outfit, with more than enough spirits for everyone. Beorbrand won the prize by a narrow margin, dressed in a cunning blue God of the Sea outfit, complete with trident! Beorbrand was awarded a full set of Lord of the Rings release pins.
Once the winners were announced, 13 riders mounted up at the start line and registered for the horse race. Eijah, Beorbrand and Byrdie kindly volunteered to act as checkpoint judges. The riders tack and mounts were checked to ensure a fair race. With a resounding "Charge!" the horses were off. The course was long and perilous, with numerous obstacles. Andeon and his noble steed returned to the Master's Brazier first with a half-length lead, followed by Madaelin on her beautiful mount. Several lengths behind, Anarwald led a cluster of riders to the finish line, coming in third. After checking with the judges, the winners were announced and fireworks lit up the sky. Andeon was awarded a model of the Crown of the King of the Dead.
UPCOMING EVENTS
Let's get together for the LMB Riding Club Turkey Chase! This event will be held on Sunday, December 4th at 9pm EST at the ranch. After food and music, there will be a horse race in the nearby countryside. The prize is a code for 1,600 Turbine Points! Only standard speed horses, ponies and goats will be allowed.
Check Turbine's In Game Player Events forum for more community-sponsored fun.
EQUESTRIAN NEWS
This month's featured horse is the Yule Festival Glittering Horse. This horse was released during the 2010 winter holiday season. It will be available from Will Peartree at Hengstacer Farms in 2011 and through the store in 2012.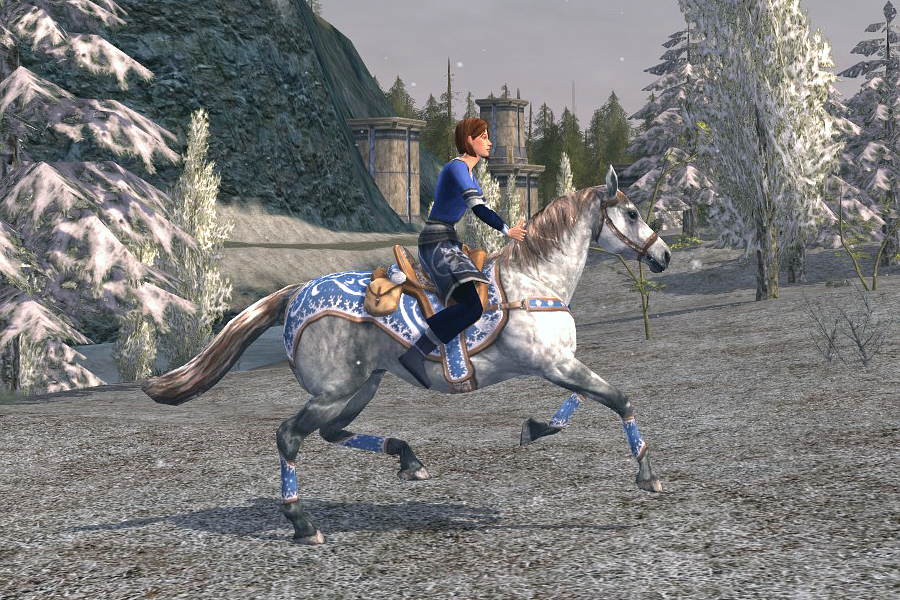 RACING TIPS
* Need a quick and easy riding shirt? Check out Cotton Armour (lvl 22+, tailor-made) and Shining Padded Jacket (lvl 21+). These look a lot like a jockey's shirt, especially when dyed in a bright color. Quilted Armor (lvl 14+, tailor-crafted) also makes a fairly good riding shirt.
* If you need help coming up with good horse names, visit this Fantasy Horse Name Generator. It avoids modern day names and allows you to choose a name based on your horse's coat. There are no garbage random names on the list.
* The shortest distance between two points is… yes, you guessed it… a straight line. Do not race down the middle of a road. Hug the inside of curves closely. Make sharp turns. Remember, you can even turn in mid-air, so that your horse is running in the right direction the moment his hooves hit the ground.
* Leap early. Your horse needs a full stride between jumps. If you are approaching two obstacles (such as fences) which are positioned close together, jump as early as possible over the first obstacle. This will give you a little extra time and distance to prepare for the next jump.
* Leap high. Whenever you are jumping an obstacle while racing uphill, you will have to jump as late as possible to compensate for the angle.
* Leap shallow. When you are jumping over an obstacle with a steep slope on the other side, jump as early as possible to reduce the risk of a sprained leg and several seconds of critical slow speed.
* Familiarity breeds success. Whenever possible, visit the race track ahead of time and practice running the course. Make careful note of which angle to come out of turns to aim directly for the next checkpoint or obstacle (they won't always be within view or "drawing distance" for your video card). Find all legal shortcuts.
Have a tip to share? Reply to this post!