CLUB NEWS
The Bywater Steeplechase ended with a thunder of hooves.  After the judges consulted and the dust cleared, Sarasti and smoky black horse Mrak trotted away with a win.  They finished with an undisputed lead, several lengths ahead of the competition.  Alliman placed riding Hearty, a second solid finish for the skilled jockey and his horse of the Gap.  Third across the finish line was Godwineson and his Tundra horse, Foroch.  He has moved to the third rank of the standings.  Gwilith and Isaewyn also had a strong run.
Seventeen contestants registered for the horse show.  Rosaliee earned the most votes from the crowd.  Eryngil and Carica tied for a close second.  Andeon's unusual costume earned him third place and a shiny gold coin.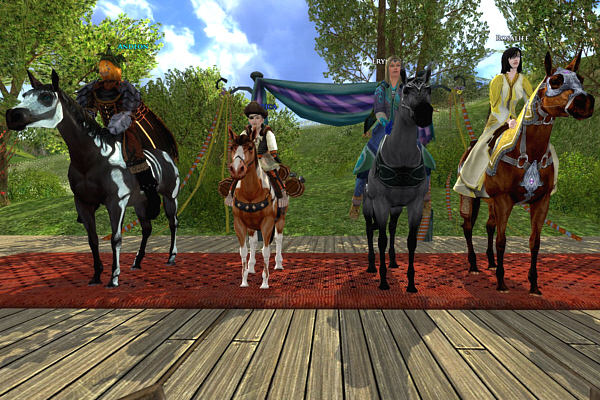 Special thanks to our race judges – Byrcha, Carica, Doribolger, Floradine, Harperengu, Shadewicke and Vognir. There would have been no race without them.
More pictures of the event are available on the Event Photos page.
The Windy Acres Ranch Horse Racing video is finished. See why horse racing is one of Middle Earth's most exciting events!
Use code 33CDC1 to buy "Scroll Combination" free in the Turbine store through March 8th!  Only one is available per account.  Virtues, trait slots, and slayer deed accelerators are also 20% off.
The treasure hunting event returned for the weekend of February 25th.  Much to the dismay of participants, the drop rate on prizes has been significantly decreased.  It is more difficult to find the new mounts – Treasure Laden Goat, Treasure Laden Horse, and Cave-claw Masked Horse.  The spawn rate of berries has increased very slightly.  Post on the Dev Diary Feedback forum to help the developers improve this event.
The Fashion Contest winners have been announced!  Congratulations to Feydriel who won the "Fashion In Motion" category.

Flash lotteries continue to be posted on the My.LotRO.com for retired steeds.  Follow LOTRO on Facebook or Twitter to be notified when a lotto is posted.
UPCOMING EVENTS
The Chetwood Cup will be held on Saturday, March 24th at 3pm EST.  This race has Gold prizes of 25 for win, 10 for place, and 5 for show.  The top three riders will also qualify to participate in the Bree Cup, a grand event that crowns the Spring Racing Carnival.  There is a 1 gold entry fee.  To register, send mail to Kiralynn your horse's name and breed.  The gold entry fee will be collected on race day.  Only 10 new entries, 3 alternates, and previous race winners (*) will be accepted.  Registration closes 15 minutes before the race begins.
The pre-race party will begin an hour before post time at Hengstacer Farms.  The stage will be open during the second half of the party for anyone who wants to perform.
View the course here – Spring Race Maps.
* Previous race winners include those who finished win, place or show.
EQUESTRIAN NEWS
This month's equestrian feature is the 2011 Anniversary horse.  This mount was obtained by participating in the fourth anniversary celebrations.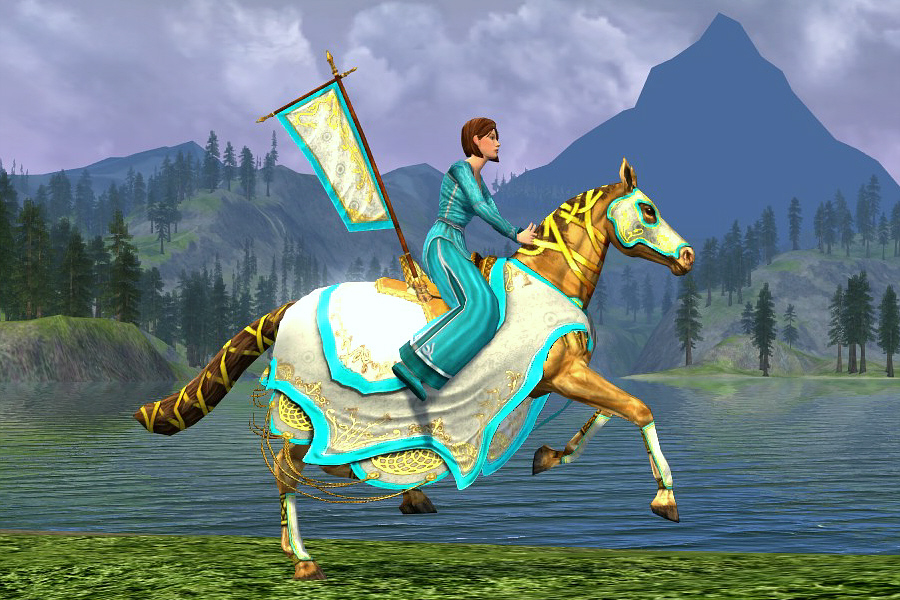 Members of the Lonely Mountain Band can contact Kiralynn if you need reputation items for Bree, Mathom, Wardens or Rivendell in order to purchase a horse.  You can also request monetary assistance in purchasing your first horse.
RACING TIPS
The "bridle" is a piece of leather gear which fits on a horse's head and is where other equipment, such as a bit and the reins, are attached.
A horse is "cut down" when it is injured by the hooves of another horse, or by its own hooves if it has a bad stride.
A horse "dwelt" if he hesitated when the race start signal was given.
A "heat" is a race in which more than one running is required to determine the winner.
A "morning glory" is a horse that runs well in workouts but fails to perform well in races.
"Post time" is the designated time for a race to start.
A horse that begins to run less aggressively has "spit the bit", backing off of the pull a rider normally feels on the reins from an eager horse.
* Do not jump when passing a checkpoint or crossing the finish line unless it is absolutely necessary.  Your floating name may not appear clearly in screenshots taken by the judges, who must confirm that you made a legal run.
* If you find a special path between checkpoints when training for a race, do not follow this path during the pace run.  Other riders will notice and discover your secret route.
* Landmarks will help you ride in the right direction, especially during steeplechases, but only if you can see them.  Adjust your "Object Draw Distance" and "Landscape Draw Distance" to the highest possible settings.  You may also need to increase your "Distant Imposters" setting.  Decrease all other graphical settings to their lowest possible level.
* Shut down all programs except for LotRO.  Make sure that your computer will not defragment the hard drive or scan for viruses during the event.  Disable voice chat if you are not using it for the race.
Have a tip to share? Reply to this article!