CLUB NEWS
Update 6: Shores of the Great River went live on Monday, March 12th. This update includes seven new areas, new story quests, a premium barter wallet, virtue upgrades, an instance finder update, and the ability to summon soldiers on the landscape. You can find more information in Turbine's Service Updates forum or read the full patch notes.
As of Update 6, the "Yule Festival Frosty" and the "Yule Festival Snowy" horses look identical. This was reported as a bug by recommendation of a GM.
A dismount animation has been added if you dismount from a horse, pony or goat that is not moving. If you are riding when you dismount, you will drop instantly. Depending on how you dismount, your horse may bow slightly.
There is a new icon on the new Winter Festival mount. This is the correct icon for the appearance.
The Race Course Design contest has begun! Submit a description of a viable horse race course. You can post either a standard or cross-country course. If your submission meets the guidelines and is used in a race, you will receive a code for 750 Turbine Points! You will also be mentioned as the course designer during the event.
Use code IHTWQ6 to buy "Fall Injury Immunity" free in the Turbine store through March 15th! Only one is available per account. Skirmishes, instances, legacy tier upgrades, and relic removal scrolls are also on sale for 20% off. New items are also for sale with update 6 – premium wallet, rank 13 and 14 virtues, and landscape soldier tokens.
Cosmetic items have been moved out of storage chests at the ranch to make room for social items. Look for food, pipeweed, alcoholic beverages, musical instruments, and everything else a club needs to throw a good party. The cosmetics are now stored at a kinhouse and the adjacent deluxe house on Brookbank road in the Thorny End neighborhood of the Shire. If you would like access to the cosmetics collection at their new location, contact Kiralynn.
UPCOMING EVENTS
The Chetwood Cup will be held on Saturday, March 24th at 3pm EST on the Landroval server. This race has Gold prizes of 25 for win, 10 for place, and 5 for show. The top three riders will also qualify to participate in the Bree Cup, a grand event that crowns the Spring Racing Carnival in late April. There is a 1 gold entry fee. To register, send mail to Kiralynn your horse's name and breed. The gold entry fee will be collected on race day. Only 10 new entries, 3 alternates, and previous race winners (*) will be accepted. Registration closes 15 minutes before the race begins.
The pre-race party will begin an hour before post time at Hengstacer Farms. The stage will be open during the second half of the party for anyone who wants to perform.
View the course here – Spring Race Maps.
If you are willing to volunteer as a race judge, please contact Kiralynn as soon as possible. We will need 4 judges to properly cover the course.
* Previous race winners include those who finished win, place or show in a non-qualifier race.
The Spring Racing Carnival has been scheduled for Friday, April 20th and Saturday, April 21st. There will be 3 qualifier races on Friday. Saturday's events include two qualifier races, a horse parade, a mounted fashion contest, a concert, and the big finale… the Bree Cup! Riders must finish Win, Place or Show in a qualifier race to participate in the Bree Cup. Check the Standings to see who has qualified.
The prizes for the Bree Cup are 100 gold for Win, 25 gold for Place, and 10 gold for Show. All other races have prizes of 25 gold for Win, 10 gold for Place, and 5 gold for Show. The horse show (fashion contest) has prizes of 5 gold for first, 3 gold for second, and 1 gold for third place.
Here is the tentative schedule of events:
* Chetwood Cup, Hengstacer Farms – Saturday, March 24th, 3pm EST
* Moonstone Cup, Gondamon – Friday, April 20, 3pm EST
* Beryl Cup, Dulliond – Friday, April 20, 6pm EST
* Mathom Cup, Michel Delving – Friday, April 20, 9pm EST
* Mithril Cup, Gondamon – Saturday, April 21, Noon EST
* Longbottom Leaf Cup, Michel Delving – Saturday, April 21, 2pm EST
* SRC Open Concert – Saturday, April 21, 4pm EST
* SRC Horse Show (Mounted Fashion Contest) – Saturday, April 21, 5pm EST
* SRC Horse Parade – Saturday, April 21, 6pm EST
* BREE CUP – Saturday, April 21, 7pm EST
Contact Kiralynn if you would like to volunteer as a checkpoint judge, band leader, layer wrangler, social reporter, town crier, booze master or bookie.
EQUESTRIAN NEWS
This month's equestrian feature is the Blue Roan. It is available during the spring festival and was introduced in 2010. It should be available in the store this spring. This horse was designed by a player named Gundryn during a mount design contest.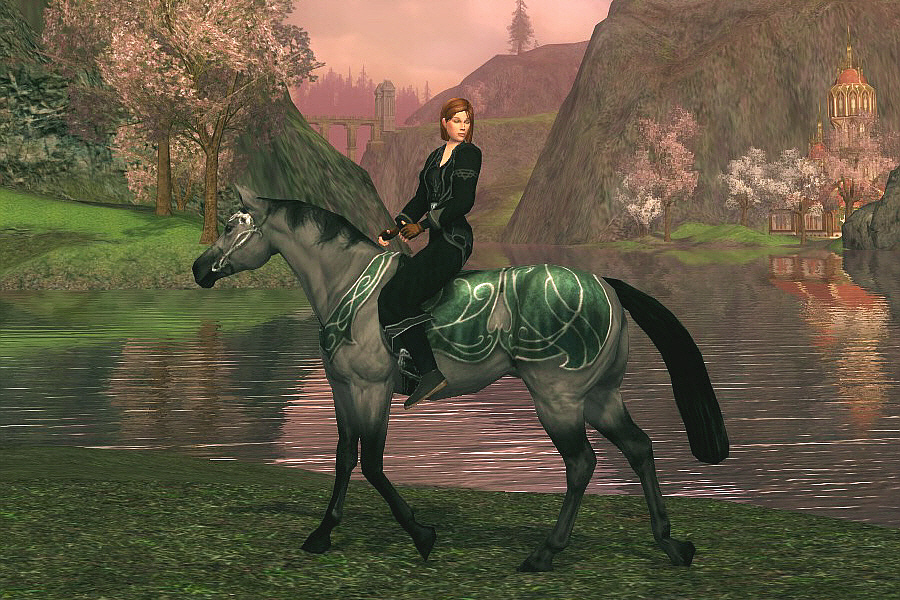 Members of the Lonely Mountain Band – contact Kiralynn if you need reputation items for Bree, Mathom, Wardens or Rivendell in order to purchase a horse. You can also request monetary assistance in purchasing your first steed.
RACING TIPS
A horse giving his utmost effort is "all out".
A "bald" horse has a white face, including the eyes, and all or part of the nostrils.
A "blaze" is a white patch on the horse's face.
A horse who runs best in the latter part of the race is a "closer".
A rider pushing his horse to run faster is "driving" him.
A horse forced to run at top speed is "extended".
A horse has "faltered" when he drops back significantly toward the end of the race.
A "scratch" refers to a horse and jockey who signed up for the race but dropped out before it began.
A "weakened" horse loses ground toward the end of the race.
* Turn off your active title before racing to make it easier for the judges to catch your name in checkpoint screenshots.
* If you are one of the first three riders to cross the finish line, meet the race organizer after the prizes have been handed out to participate in the winner's screenshots.
* Bring fireworks, drinks and pipe-weed for the post-race party!
Have a tip to share? Reply to this post!