CLUB NEWS
As of Update 6, the "Yule Festival Frosty" and the "Yule Festival Snowy" horses look identical. If you own these mounts and they look the same, be sure to type "/bug" while playing and file a report, as Turbine has not yet added this to their list of known issues.
There will be a contest every month on the Windy Acres Ranch web site. The Race Course Design contest ends on March 31st. Look for the Jesters Horse Show contest in April!
Use code 30TURBINE to receive 30% off purchases through March 29th! (Limit of ten per account.) Three fast horses and a yule festival horse are once again available in the store. Steeds of Night, Minas Ithil and Bright Days cost 1,195 points. They are available in two and three horse bundles at an additional discount. The Yule Festival Snow Steed is available for 1,195 points. The Snow steed is a standard speed mount. Use code 631SMT to receive a free Slayer Deed Accelerator (60 min), and code DYE923 for a free Black Dye.
UPCOMING EVENTS
The Lucky 777 Fun Run will be held on Saturday, April 14th at 5pm EST. Prizes are 15 gold for first, 10 gold for second, and 7 gold for seventh place. Only standard (162%) horses, ponies and goats are allowed. Standard racing rules apply. The pre-race party will begin an hour before post time at the festival tent in Buckland. Registration is limited to 16 riders. There is no registration fee. This race is not a Spring Racing Carnival qualifier and does not count toward overall rider standings. Contact race master Tinki to sign up.
View the course here – Lucky 777 Map.
The Spring Racing Carnival has been scheduled for Friday, May 4th and Saturday, May 5th. There will be 3 qualifier races on Friday. Saturday's events include two qualifier races, a horse parade, a mounted fashion contest, a concert, and the big finale… the Bree Cup championship race! Riders must finish Win, Place or Show in a qualifier race to participate in this event. Check the Standings to see who has qualified.
EQUESTRIAN NEWS
This month's equestrian feature is the Pale Golden Summer horse. It is available during the summer festival in the store and was introduced in 2010. It is a rare, pale dun horse with a black mane and tail.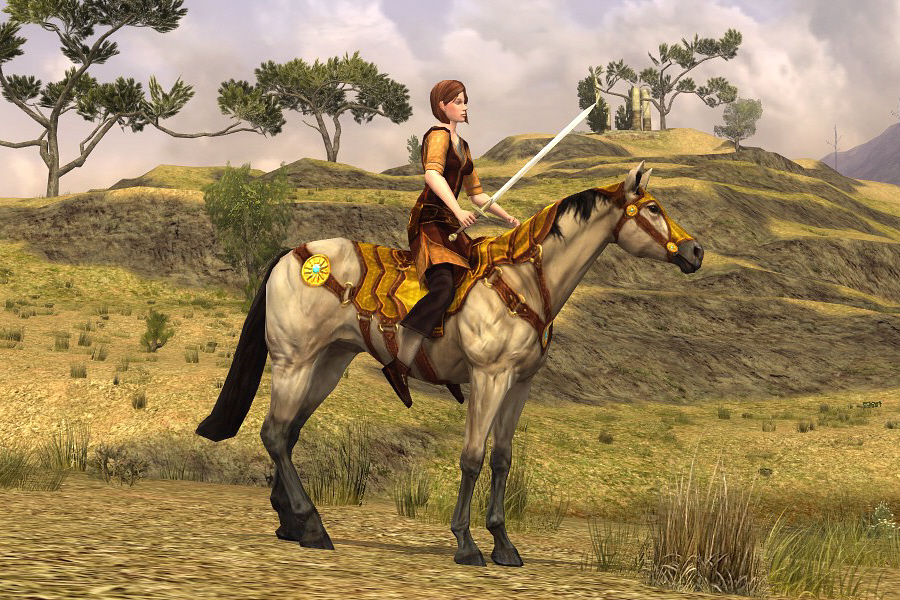 Contact Kiralynn if you need reputation items for Bree, Mathom, Wardens or Rivendell in order to purchase a horse. You can also request monetary assistance in purchasing your first steed. Have spare reputation items? Consider donating them to the ranch to help young riders buy new mounts.
RACING TIPS
* Show up early to every race. This will give you time to confirm your registration. It will also allow time to fend off any pre-race jitters.
* Check your rider standings and make sure they are correct. Some races only allow previous winners to participate. Don't try to correct an error at the last minute.
* If you have multiple cosmetic slots, use them to your advantage. Put the same outfit in a different color in every slot. If you arrive at the race and notice another rider wearing the same color, you can switch without going back to the bank.
* If you have a Free To Play account, make sure that you have removed your Currency Cap before the race. If you win, you will want to be able to hold more than 5 gold in your wallet. The currency cap can be removed for 395 Turbine Points in the store.
* When you arrive at the race site, make sure that you can see and hear the race master. If not, you might be playing on a different dynamic layer. Join a fellowship with a race official. Once in the fellowship, you can transfer to the same layer by clicking on the Dynamic Layer Alert in the lower right hand corner of your screen.
* Next time you visit Bree-land homesteads, add the Raglan neighborhood to your list of favorites. This will make it easier to reach Windy Acres Ranch for special events.
* Make sure that you have correct and updated drivers for your video card and monitor. This will help graphical performance and reduce lag during races.
* Voice chat is not a reliable way to communicate during races. If you have something to say to the race master or a judge, use /tell. If you don't get a response within a few minutes, send the /tell again in case your original message was lost in spam. Please be patient – race officials are asked a tremendous number of questions before a race.
* Bring a musical instrument to perform a solo or join a band during the pre-race party!
Have a tip to share? Reply to this post!