CLUB NEWS
There will be a contest every month on this site. The Jesters Horse Show contest ends on April 30st. Submit a mounted screenshot to win a code for 750 Turbine Points!
The Pax East 2012 mount is now available through flash lotteries on my.lotro.com.
Keep an eye on LotRO through Facebook and Twitter for even more chances to win one of these rare horses.

The Windy Acres Fun Run and Horse Show took place on Wednesday, April 4th. Congratulations to Galspi who won the horse race. Close behind in second place was Byrcha, followed by racing newcomer Loviisa. Anyone who bet on Byrcha to Place or Show had reason to cheer that day, as his odds were 15-to-1. Loviisa won the horse show by a wide margin. Second place was awarded to Runesdaeg and third to Juneith. Carica was close behind in fourth place. Watch for her to be a serious contender in future shows. Many thanks to Lennidhren who brought the sack full of prizes and distributed them to our winners, and to Carica who volunteered as a race judge.
The Lonely Mountain Band recently celebrated their fourth year anniversary with an Aerlinnbar Homecoming on March 31st. After an evening of music and dancing, the Banders went on a group ride all the way from Falathlorn to the Prancing Pony in Bree!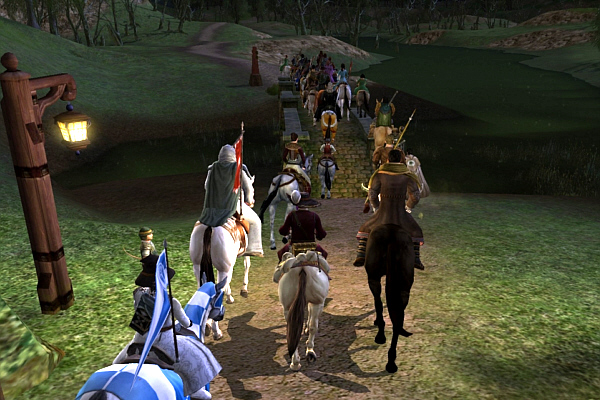 Use code 569TGE to buy a free "Crumbling Insignia" now through April 12th. You can also use code 967RDT to buy a "Crumbling Brand" for your monster character. (Limit of one per account.) The Steed of Bright Days, a 168% speed fast mount, is available in the store until April 19th. Need reputation for a new faction mount? The "+5000 Enhanced Reputation Supply" bonus is available in the store at 20% off, for a mere 180 points!
MEMBER INTERVIEWS
I recently caught up with Loviisa of the Lonely Mountain Band, a new rider who performed well at the recent Windy Acres Fun Run. Here is an interview with this promising young minstrel. She asks that you please forgive her broken Westron.
Where are you from?
"I am Loviisa of the Lumi-väki."
What is your horse's name and breed?
"Helleena is her name. She is of the Tunturi Hevonen, the only horses that survive the winters of the North."
What inspires you to race horses?
"Many winters have I ran in my homeland. I continue that way in the south, to keep Helleena strong for the coming storm."
How do you train before each race?
"If there are enough moons before the race, I take Helleena to run the long path to Sûri-kylä from the Southlands, although the Elders do not fully welcome my return to home."
What made you choose Helleena from your stable above all the others?
"Only her brothers and sisters survive in my home. There is no stronger or faster horse in all the lands of the sivullinen."
What are your racing strengths and weaknesses?
"I have lived in the longest winters. There is no land I cannot ride."
What advice would you give to new, inexperienced riders?
"To start your run in the hardest lands. Only there can a rider find courage."
UPCOMING EVENTS
The Broken Bone Race will be hosted by Kandral on the Laurelin server on April 9th at 3pm server time. This cross-country race runs from Thorin's Hall Gate, through Gondamon and Duillond, to the finish line west of Needlehole. The prizes are 9 gold for first, 4 gold for second, and 2 gold for third place. Sign up at the pre-race party or by sending an in-game mail to Kandral.
The Lucky 777 Fun Run will be held on Saturday, April 14th at 5pm EST. Prizes are 15 gold for first, 10 gold for second, and 7 gold for seventh place. Only standard (162%) horses, ponies and goats are allowed. Standard racing rules apply. The pre-race party will begin an hour before post time at the party stage in Buckland. Registration is limited to 16 riders. This race is not a Spring Racing Carnival qualifier and does not count toward overall rider standings. Contact race master Tinki to sign up.
The Spring Racing Carnival will be held on Friday, May 4th and Saturday, May 5th. There will be 3 qualifier races on Friday. Saturday's events include two qualifier races, a horse parade, a mounted fashion contest, a concert, and the big finale… the Bree Cup! Riders must finish Win, Place or Show in a qualifier race to participate in the Bree Cup. Check the Standings to see who has qualified.
EQUESTRIAN NEWS
This month's equestrian feature is the Steed of Bright Days. It is a fast (168%) mount available for purchase in the store. This brown horse has white socks and a blaze. It is descended from horses gifted to Cirion, Steward of Gondor, by Eorl the Young following the Battle of the Field of Celebrant. The colorful barding represents the flowering fields beneath a blue sky and symbolizes the creation of the sovereign nation of Rohan.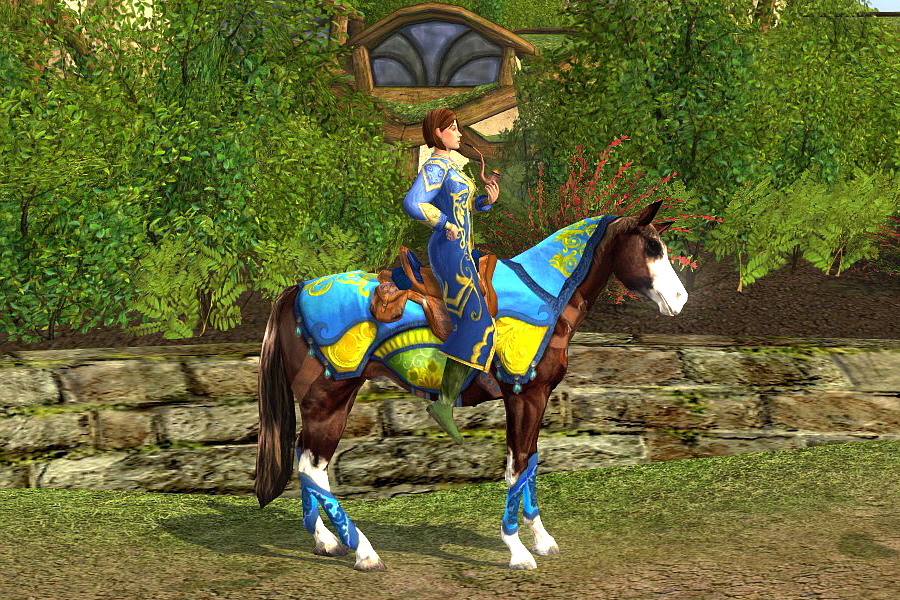 Contact Kiralynn if you need reputation items for Bree, Mathom, Wardens, or Rivendell in order to purchase a horse. You can also request monetary assistance in purchasing your first steed. Have spare reputation items? Consider donating them to the ranch to help young riders buy new mounts.
RACING TIPS
* When deciding which rider to wager on, don't bet on the same person as everyone else. A rider with many bets has very low odds, which means a low payout if he wins.
* If you are dismounted during a race, be careful to continue with the same horse that you started with.
* Make remounting faster and easier by adding a button for the correct mount to one of your quickslot bars. Go to System… Options… Quickslots to configure your bars. Go to the Mounts tab of the Skills window to find your list of available mounts.
* Avoid using a wireless connection to the internet during races. Using an ethernet cable will reduce your lag.
* To decrease lag, unload all game plugins that you are not using before a race. Go to System… Plugin Manager to configure your plugins.
* If you have trouble navigating an obstacle, don't give up. The riders ahead of you may run into trouble before the finish line.
* If you are in a fellowship when you arrive, leave it. You will need to join a raid with the checkpoint judges to participate in the race.
* Create or select a chat tab to use during the race. Use the chat filters to turn off all channels except Say, Tell, Fellowship, and Raid. This will make it easier to read all of the race announcements and rules. To create a new tab, right-click an existing tab and select "Create New Tab". To set up chat filters, right-click a tab, go to "Change Filters", and uncheck all unwanted channels. (Each tab has its own filters.)
* Use /ra instead of /f if you want to ask a question in the racing raid group. /f cannot be heard by all members of the raid.
Have a tip to share? Reply to this post!