CLUB NEWS
Seventeen riders arrived at Buckland on Saturday, April 14th for the Lucky 777 Fun Run hosted by Tinki. She reports, "It was an exciting race as they entered the Tunnel to the Old Forest where they began to spread out looking for that fast exit out to open ground. They were strung out widely as they neared Adso's Camp but when they found the Bree road they were clumped so tight it was hard to make out the first five places!" First place and a prize of 15 gold went to first-time rider Floradine! Second place and 10 gold went to veteran jockey Guldrion. Third place and 7 gold went to Filsi.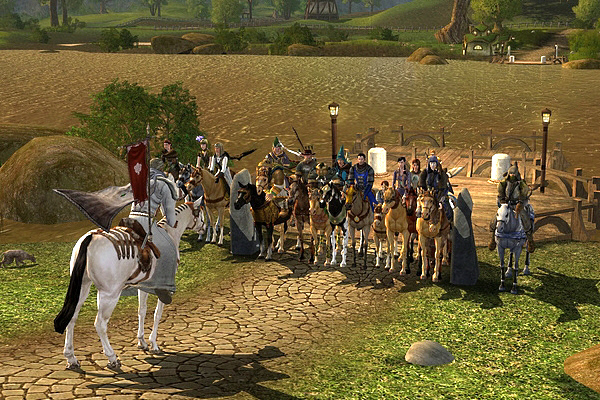 The Windy Acres Ranch flash race took place on Thursday, April 29th at 3:30pm EST. The announcement was made only one hour in advance, but racing fans came from far and wide. Seven brave riders met at Hengstacer Farms in Bree-land to compete – Amarantos, Bandielle, Dereborn, Kaleigh, Naurelwen, Sairalindie and Taranar. The riders were given a single pace lap and five minutes to familiarize themselves with a race course. The fences and cliffs proved very challenging. Sairalindie with her Mathom Society horse Calamity crossed the finish line first, earning a Perlino mount for every character on her account. Taranar and bay horse Aselhoth were close behind and won 5 gold. In third place, Kaleigh and Esteldin horse Dandelion made a good showing and won 1 gold. Special thanks to our checkpoint judges – Skardsi, Sigvalr, Gennyrose and Ellasse.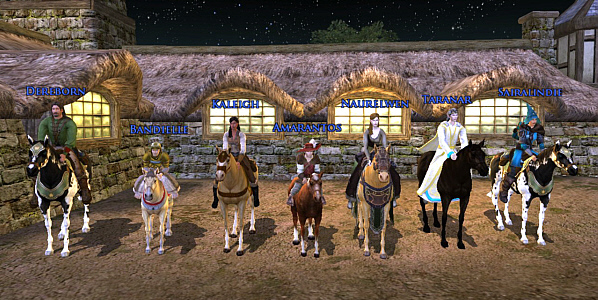 Four riders braved the cold Gondamon night to participate in the Moonstone Cup, a qualifier race for the Spring Racing Carnival. The route was longer than last year's and included a dangerous cliff drop at the south tower of Ringdale. The Dourhands were none to happy but the riders galloped past before the wretched dwarves could respond to their trespass. First across the finish line by three lengths was Kiralynn riding blue roan Turion. In an incredible racing debut, Valtharon crossed the line in second place riding Mathom Society steed Silverstone. Talented rider Loviisa finished a solid third on her tundra horse Helleena. Look for Loviisa to be among the winners at the Bree Cup. Special thanks to Tinki for acting as Race Master, Floradine for judging and providing music, and Byrcha and Sigvalr for serving as checkpoint judges!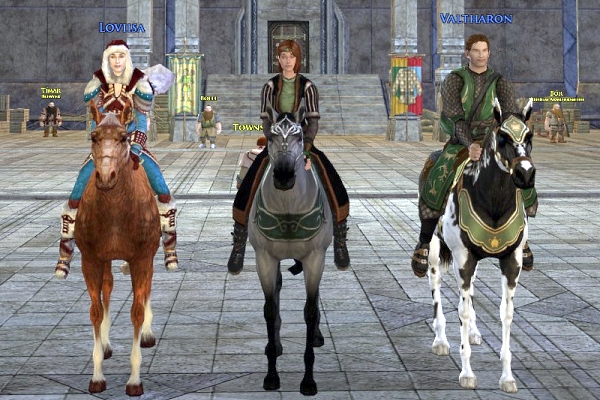 Seven riders made their way to Duillond to participate in the Beryl Cup, the fourth qualifier race for the Spring Racing Carnival. The beautiful spring weather and bright sunlight gave the race a festive atmosphere. Besting his previous win at the Haunted Horse Race of 2011, Andeon crossed the finish line well ahead of the other riders. Black horse Ichabod was replaced by Annudir, a pale golden summer steed with great stamina. Newcomer Winterblues made her debut on Malledhrim horse Riverwind and finished in second place. Joining them on the list of riders qualified for the Bree Cup, Celthlas and Autumnfest horse Morngond galloped across the line in third place. Twelve riders are now in competition for the grand prize of 100 gold. Special thanks to Floradine for acting as Race Master, Carica and Ahtook for acting as checkpoint judges.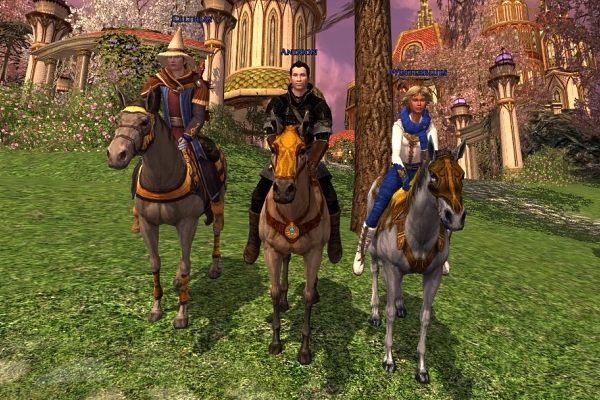 Only three qualifier races remain. The next qualifier race is the Mathom Cup in Michel Delving, scheduled for Friday, May 4th at 4pm EST.

The Horse Racing Screenshots Contest ended on Sunday, April 22nd at midnight. Many fine entries were submitted by riding club members, competitive riders, and racing fans. After reviewing all of the screenshots and taking a vote, the winners were selected.

The Steed of the Champion is now available in the LotRO Store until May 3rd. Check the lotteries on My.LOTRO.com to win one of these beautiful horses.

The appearance of the Yule Festival Snowy horse has been restored. Thank you, Turbine!

MEMBER INTERVIEWS

The series of rider interview continues with a fascinating hobbit. Not only is she known for her speed on the race course, she has also been a hard-working volunteer at many events.

Who are you and where are you from?
"I am very pleased to meet all of you! I am Byrcha of the Shire. Oh, and if you don't mind, it's pronounced BUR-kah."

What is your horse's name and breed?
"Oh my, if I leave one of them out they might get miffed and try to throw me the next time that we ride! I came into a bit of an inheritance and purchased my first pony, a Mathom Society steed, Thunder, which was the pony I used during my Yule Festival duties. Then, as a reward for my service, the Inn League awarded me Tipsy! Alas, Tipsy is most decidedly not a racing pony, as she is always so thirsty. Then, the Eglain were kind enough to give me a discount on one of their sturdy ponies, Speckles. She's my favorite for adventuring! Now that I have finished helping those haughty Wardens up at Tin-oh-dear, I have one of their nice chestnut ponies too: Truffle. Also, there is Sniffles; but I don't ride him except to costume parties or to treasure hunts — he is convinced that he is a cave claw, yuck!"

What made you choose this horse from your stable above all the others?
"I had just bought Trusty from my friends at the hunting lodge during the Lonely Mountain Band's 4th Anniversary celebration, since I wanted a Bree pony to ride to the Mega-Concert. I like to support the local merchants whenever I can, and Trusty complemented my new purple dress perfectly. I had a hunch that Trusty would give a good account of herself in the Fun Run, having been raised so close to Windy Acres Ranch, and she did!"

What inspires you to race horses?
"Well, last winter when I was riding all over the Shire delivering beer and ale for those layabouts at the Inn League, I discovered that I liked riding! I was even able to fit in a quick side-delivery to Oatbarton without those wizard-timekeepers calling foul. After the Yule festivities ended I decided I missed the thrill of the chase, so now I race whenever I can."

How do you train before each race?
"We run the course if it is convenient, but I trust that my ponies will know the way. Otherwise, an apple for my pony and a sensible second- (okay, third-) breakfast for myself is all we need to get ready. Of course we're both famished once the race is over! Oh, we also jump over any and all obstacles I find during my travels to stay in practice: boars, bears, that sort of thing."

What are your racing strengths and weaknesses?
"We can cut a very close corner. Just don't point us towards any cliffs — there isn't a cliff or chasm that I won't try to jump, though we break so many horseshoes that way!"

What advice would you give to new, inexperienced riders?
"Don't fall off! It is quite the inconvenience. And hold on to your hat!"

UPCOMING EVENTS

Scenic Trails Screenshot Contest – It's springtime and there is no better place to find scenic landscapes than Middle Earth. Submit a screenshot of your favorite place to ride. The winner will receive a code for an account-wide Perlino mount! Submissions must be received by April 30th.

Jesters Horse Show Contest – Submit a screenshot of your best mounted jester costume. We want to see fools, acrobats, clowns, and pranksters in colorful outfits riding their favorite steeds. The winner will receive a code for 750 Turbine Points! Submissions must be received by April 30th.

The Spring Racing Carnival is right around the corner! There are nine slots still open for the prestigious Bree Cup winners race. Here is the latest schedule:
* Mathom Cup, Michel Delving – Friday, May 4, 4pm EST
* Mithril Cup, Gondamon – Friday, May 4, 9pm EST
* Longbottom Leaf Cup, Michel Delving – Saturday, May 5, 2pm EST
* SRC Open Concert – Saturday, May 5, 3pm EST
* SRC Horse Show (Mounted Fashion Contest) – Saturday, May 5, 4pm EST
* SRC Horse Parade – Saturday, May 5, 6pm EST
* Bree Winner's Cup – Saturday, May 5, 7pm EST

EQUESTRIAN NEWS

This month's equestrian feature is the Red-Clad Horse of the Gap. It is a special mount available by purchasing the Legendary, Heroic or Base Edition of Rise of Isengard expansion. This blonde sorrel horse has a red caparison with a star motif.

Contact Kiralynn if you need reputation items for Bree, Mathom, Wardens, or Rivendell in order to purchase a horse. You can also request monetary assistance in purchasing your first steed. Have spare reputation items? Consider donating them to the ranch to help young riders buy new mounts.

RACING TIPS

Check the Rider Standings when deciding who to bet on. You will win the most coins if you bet on a long shot. Look for riders who have some experience but a relatively low score.
The more people bet on the same horse, the lower the betting odds. If you bet on a popular rider, don't bother wagering for Place or Show. You won't make your coins back.
A bet of Place means that you receive a payoff if the horse comes in first or second. However, you only get half as much as a bet to Win. This is a wager best suited to a large pouch of coins.
A bet of Show means that you receive a payoff if the horse comes in first, second or third. You only get one-fourth as much as a bet to Win. This is a wager best suited to long shots.
Avoid betting the field. If more bets are lost than won, you won't come out ahead. Choose one or two riders that you have confidence in.