CLUB NEWS
The riding club kinhouse has been redecorated for the festive holiday season!
Two more judges are needed to help with the Turkey Chase. Please contact Kiralynn at the event if you are able to assist.
The Steed of the Guardian will be available in the Turbine Store from November 23rd to December 8th for 1995 TP. It is a 168% speed mount with 250 health.
Want a FREE "Scroll of Lesser Craft Acceleration"? Now through December 8th, use code DMGCDC in the Turbine store!
Need to collect reputation items to buy a new mount? Due to the disappearance of all reputation items in the kinhouse chests, items will only be available by request. Contact Kiralynn if you need Mathom or Wardens reputation.
Interested in a weekly practice race? Let's get together every Thursday at 4pm EST.
UPCOMING EVENTS
The LMB Riding Club Turkey Chase will be held on Sunday, December 4th at 9pm EST at the ranch. After food and music at the kinhouse, there will be a horse race in the nearby countryside. The prize is a code for 1600 Turbine Points! There has been more interest in this race than previous races, so it is a good idea to practice the race course before the big day. The competition will be tighter than ever.
I am taking suggestions for scheduling of the next horse race. If you are a daytime player, please reply with the weekday and EST time that works best for you.
EQUESTRIAN NEWS
This month's equestrian feature is the Prized Dark Chestnut Horse. It can can be purchased from Celegdes at Tinnudir in Evendim after reaching Kindred reputation with the Wardens of Annúminas. Contact Kiralynn if you would like reputation items for this faction.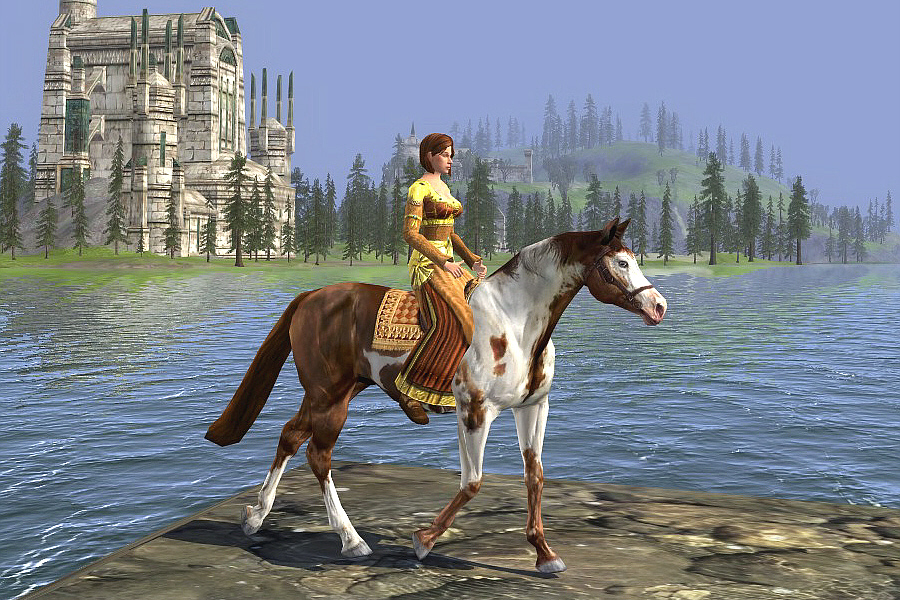 RACING TIPS
* Don't be shy. When the race is about to start, put your finger on the button (keyboard or mouse). When you hear/see the signal that starts the race, run! Don't wait for everyone else to dash out ahead of you. Have confidence that you really did see and/or hear it.
* Pan overhead. When crossing narrow terrain, position your camera view more overhead than behind. This will give you a more accurate view of where your horse's hooves are landing.
* Think you're winning the race, but it's close? Take a screenshot of yourself crossing the finish line. Offer to email it to the judges immediately if there is any controversy.
Have a tip to share? Reply to this post!