CLUB NEWS
The riding club is working toward a definitive set of rules for track and steeplechase races. Finishes will be based on the position of the riders, rather than the horses, so that ponies are not at a disadvantage. Turbine has not answered concerning lag and race starts, so for now we will be using the /charge emote after a warning that the race is about to begin. Race finishes will be determined by at least one judge with screenshots.
Have ideas for more race rules? Post them here!
The Steed of the Guardian will be available in the Turbine Store from November 23rd to December 8th for 1995 TP. It is a 168% speed mount with 250 health.
More mathoms are available at Windy Acres Ranch. Stop by today and improve your reputation with the Mathom Society. They'll sell you a beautiful horse!
Interested in a weekly practice race? Need to collect reputation items to buy a new mount? Let's get together every Thursday at 4pm EST!
UPCOMING EVENTS
The LMB Riding Club Turkey Chase will be held on Sunday, December 4th at 9pm EST at the ranch. After food and music, there will be a horse race in the nearby countryside. The prize is a code for 1600 Turbine Points! There has been more interest in this race than previous races, so it is a good idea to practice the race course before the big day. The competition will be tighter than ever.
To make it easy for judges, I have selected checkpoints for the Turkey Chase that are difficult (if not impossible) to cheat on – they cannot be run over, only around. If you will be available to act as a judge on this race, please respond to confirm, thank you!
On Sunday, November 27th at 10pm EST, Steeplechase in the Shire will be hosted by the Crafting Union.
"The last Sunday of the month is approaching so the Crafting Union will be running our monthly steeplechase, this time in the Shire. We'll gather at our start point somewhere in the Shire (announced that evening) at 9pm (US central). Once the group is gathered, the leader will switch to a character who is at the finish point and reclaim lead so the finish point is clear to all on the map. All ride and the first to get to the finish and open trade wins a prize (as do second and third). It's a straight race — no ports, no maps, no rental horses. The finish is often not quite where it appears on the map as Grintin can be a tricksy dwarf, but he does stay in one spot the whole time; knowledge of terrain in the less traveled parts of the zone is usually of benefit as there might be short cuts."
EQUESTRIAN NEWS
This month's equestrian feature is the three new horse-related emotes.
Here is Fletch, a liver chestnut horse, performing a bow.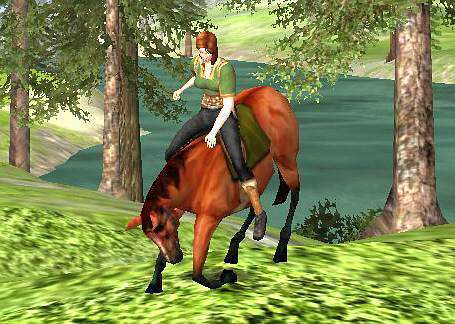 Cricket, the Eglan horse, performs a kick. There is a little crow-hop at the beginning to warn you. Hold on tight, this maneuver is for advanced riders only!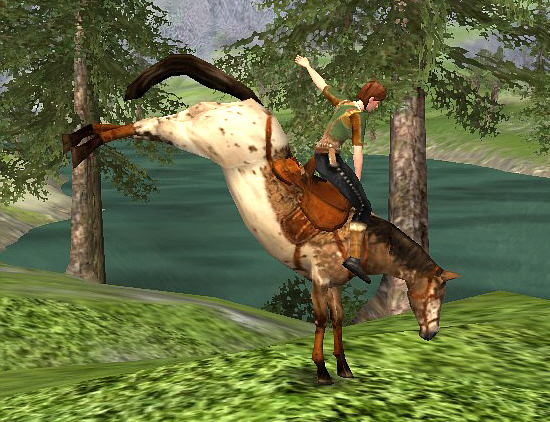 My horse Jinx, bred by the Mathom Society, demonstrates rearing up.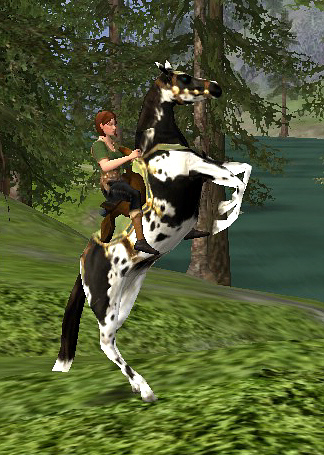 All three of these emotes are available in the Store for 195 Turbine Points today!
RACING TIPS
* Jumping significantly slows your horse for a full second. A small detour is faster than an extra jump.
* Easy on the spurs! Be frugal with the space bar. Don't spam it or your horse may get confused and miss a jump entirely.
* Not all walls and fences are equal. Most of them have a low point which is easier to jump. This is especially important for stone walls on uneven terrain. Look for a dip right at or directly between two pillars.
* Wear a distinctive outfit at the race. This will make it easier for the judges to identify you.
* If you see or hear the signal to start a race, gallop immediately. You might not notice both.
Have a tip to share? Reply to this post!